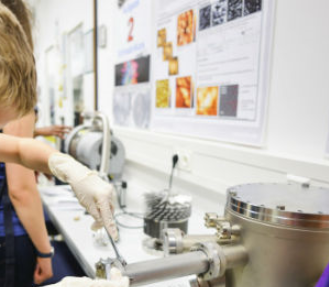 Description
Fast as light - racing particles on the track! Do you want to become a researcher yourself and find out what a phone, a vacuum cleaner and a microwave share? Then join us on a journey into the world of particle accelerators with many exciting and "tasty" experiments to watch and participate in!
Venue: FTU at KIT Campus North
Date: 3. October 2018, 10-12 and 13-15
More Information: Link
The page with the Maus: Link
Beschreibung
Schnell wie das Licht – Rasenden Teilchen auf der Spur! Möchtest du selbst zum Forscher werden und herausfinden, was Telefon, Staubsauger und Mikrowelle miteinander zu tun haben? Dann mach mit uns eine Reise in die Welt der Teilchenbeschleuniger, mit vielen spannenden und "schmackhaften" Experimenten zum Zuschauen und Mitmachen!
Ort: FTU am KIT Campus Nord
Datum: 3. Oktober 2018, 10-12 und 13-15 Uhr
Mehr Information: Link
Die Seite mit der Maus: Link