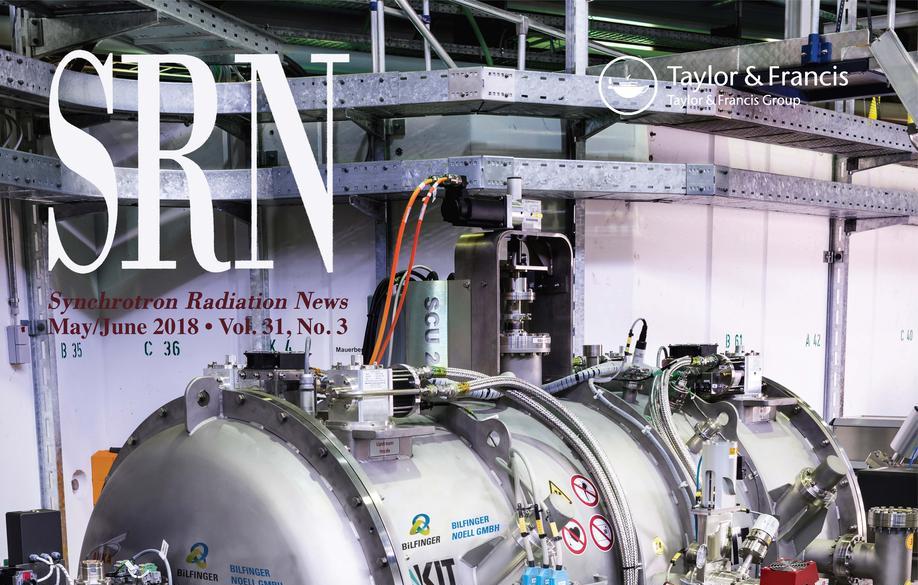 Brilliant light of the first commercially available superconducting undulator
Date:

May 2018

The Cover of the May/June Issue of Synchrotron Radiation News (SRN) features the new full-scale superconducting undulator optimized for series production installed in the Karlsruhe Research Accelerator, the electron storage ring KARA at the KIT light source. It highlights the article by S. Casalbuoni et al. in the SRN issue on undulators.

Reference: S. Casalbuoni, N. Glamann, A. Grau, T. Holubek, D. Saez de Jauregui, S. Bauer, C. Boffo, T. Gerhard, M. Turenne, and W. Walter (2018), "Superconducting Undulators: From Development towards a Commercial Product", Synchrotron Radiation News, 31:3, 24-28, DOI: 10.1080/08940886.2018.1460171

Contacts: S. Casalbuoni, A. Grau, D. Saez de Jauregui
Brilliant light of the first commercially available superconducting undulator
The cover of the May/June issue of Synchrotron Radiation News (SRN) features the new full-scale superconducting undulator optimized for series production while in operation at the KIT synchrotron. For German version of this text see here.
Undulators are the workhorses in modern synchrotron light sources
Undulators are magnets operating in synchrotrons around the world to serve as the most intense X-ray photon sources. They are core elements of synchrotrons to provide brilliant X-ray light for a variety of applications and scientific disciplines such as material science, biology, environmental science, physics, chemistry and medicine. Superconducting undulators are among the technologically most advanced elements of current and novel accelerators.
What is an undulator?
An undulator is an array of dipole magnets with alternating magnetic field direction. The ultrarelativistic electrons stored in an accelerator are guided by an undulator onto a quasi-sinusoidal, an undulating path. Superconducting undulators, if compared to state-of-the-art permanent magnet technology, are advantageous, because they produce for a given geometry higher magnetic fields. Thus, applications at synchrotron light sources can benefit from higher photon flux at samples and detectors as well as shorter wavelengths and higher photon energies provided by superconducting undulators.
A successful collaboration for user-friendly superconducting undulators
KIT and Bilfinger Noell GmbH have a strong collaboration on the development of superconducting undulators (SCUs) for present and future light sources. The developed undulators are wound with NbTi wire. They are cryogen-free, therefore no liquid helium or liquid nitrogen is needed, which enables a very convenient operation. These SCUs are also unique in that they feature a variable gap, which eases commissioning and operation tremendously. In 2015, the first important milestone was the successful test of a planar superconducting undulator with 15 mm period length (SCU15) in the KIT light source. For the first time, the technology's advantage of higher peak magnetic fields over permanent magnet undulators for a full-scale device was proven. These tests provided the necessary knowledge to develop a new full-scale superconducting undulator with 20 mm period length (SCU20), which has now reached series-production readiness.
SCU20: fast installation and user readiness
SCU20 now produces high brilliance X-rays for the NANO beamline and is currently installed in the Karlsruhe Research Accelerator, the electron storage ring KARA at the KIT light source. The installation in KARA was exceptionally fast and it lasted just one month until first light was delivered. In the published article in Synchrotron Radiation News (SRN) the authors state: "SCU20 is the first commercially available product world-wide: a robust device, with reasonable delivery time, easy handling during installation and operation."