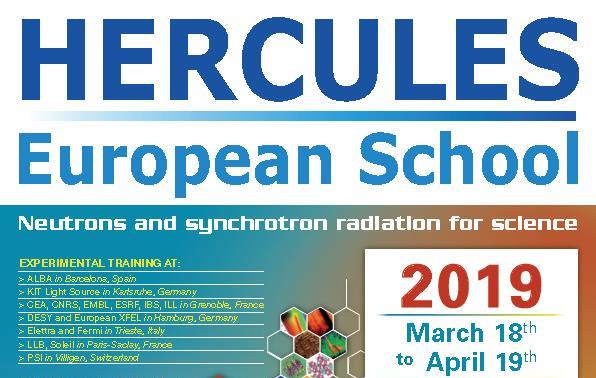 HERCULES European School students in Karlsruhe at the KIT Synchrotron, KARA, and FLUTE
About the school: This one month course, coordinated by the Université Grenoble Alpes, is designed to provide training for students, postdoctoral and senior scientists from European and non-European universities and laboratories, in the field of Neutron and Synchrotron Radiation for condensed matter studies (Biology, Chemistry, Physics, Materials Science, Geosciences, Industrial applications). It includes lectures, practicals and tutorials, visits of Large Facilities and a poster session.
The school at KIT: The students for the one-week course from April 8th to 12th, 2019 were hosted at the KIT Synchrotron and Light Source, the Karlsruhe Research Accelerator (KARA), and the short-pulse linear acclerator FLUTE, all located at Campus North of KIT. The visit to KIT was offered as one of the Large Facilities' visits in the HERCULES European School.
The students of the HERCULES European School arrived on Friday, April 5th in Karlsruhe. After a busy weekend in the city centre all students met on Monday morning, April 8th, at the south gate of Campus North to receive their site-entry ticket valid for the week.
Lectures started with an obligatory safety and radiation protection training, followed by an introduction to machine physics and the accelerators of KIT. The students received a detailed overview of the beamlines at the KIT Synchrotron and Light Source(for details see the operating institute's webpages CRG, IBPT, and IPS). The afternoon was devoted to hands-on experiments in the control rooms of the accelerators or to an overview to all available technologies of the Karlsruhe Nano Micro Facility (KNMF).
Every morning, the students travelled from Karlsruhe central station, using line S11, into the heart of KIT's Campus North with a convenient stop directly opposite of the KIT Synchrotron and Light Source, while returning in the evening to Karlsruhe city centre. At the synchrotron, KIT scientists introduced the students to the operation of beamlines and the scientific topics studied at these advanced instruments.
The HERCULES European School students were very happy with the given lectures and hands-on experiments. The very engaged students also astonished the KIT scientists, being thoroughly interrogated by the students.
Highlight example: One group studied the three dimensional structure of their own hair with a resolution of a few thousands of a millimetre. Are the tips broken already? All seem to be very healthy, but from now on, the school is dubbed: HAIRCULES European School.